Hong Kong, live it love it. Xiamen, live it love it.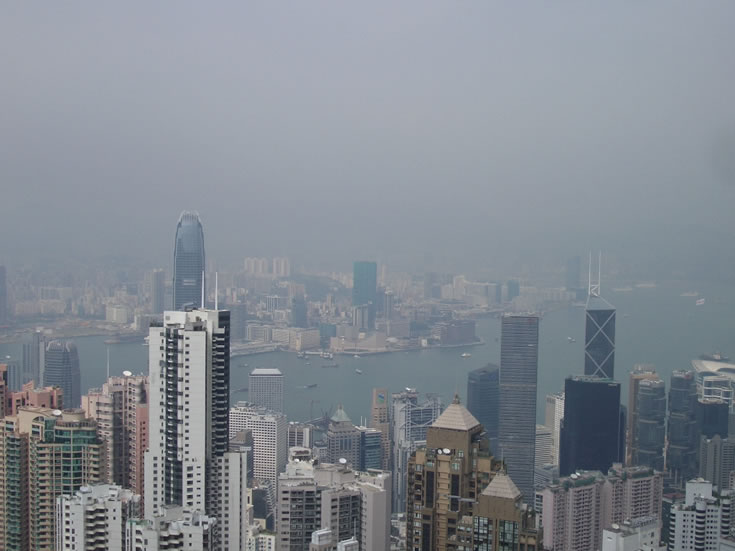 Soooo, after taking a well deserved break, I decided it was time to get off my rear-end and start weighing up some options.

And I'm very lucky that there have been many. But one thing I wanted to do immediately was tie up some stuff in Hong Kong and China before ad:tech, Shanghai comes around. I'm on the advisory board with ad:tech and I've been helping new conference chair, Drew Ianni to program the search track.

And to be honest, I don't need much of an excuse to hop on a plane and head to Hong Kong, a city I've fallen in love with. And same applies to Xiamen, China which is rapidly becoming a bit of a second home for me as well.

I met with my friend and colleague Gerard M Jacobs (leading American businessman and former CEO with Think Partnership Inc.) also travelling on business in Hong Kong and he tagged along with me into China.

This was a great opportunity for me to catch up with him. Gerry is a very highly regarded businessman who has funded and headed up billion dollar companies. I have a huge amount of respect for him. And he's a great sounding board when it comes to new business ideas.

Apart from the fact that I suffered a very severe bout of food poisoning whilst in Xiamen, it was great to be back. This is a great and rapidly developing city which has a very "happening" feel about it. I have to say, the food poisoning had nothing to do with the excellent dishes served in that wonderful city. I believe it was down to some sandwiches served to us on the plane at Hong Kong airport. The flight was delayed by one hour when we arrived. I kind of expected that because the hotel had slipped a cyclone warning note under everyone's door the night before.

However, after boarding, we were then held on the runway for another threes hours as a typhoon hit the south of Hong Kong. Boy, we were in the middle of real dramatic, movie style storm. At one point, the cabin crew suddenly arrived with some finger style sandwiches to try and keep us occupied. They were wrapped in cling film, so they had obviously been prepared somewhere else, not on the plane. I wasn't even hungry, just bored stiff with waiting to get off the ground. So... yes, I ate them.

Eventually the plane got off the ground into huge amounts of turbulence as we bounced up and down in the sky over the south China sea on the way to Xiamen, arriving many hours later than expected.

That night, in the wonderful super-posh bathroom of my room at the Sheraton Hotel, in downtown Xiamen... all that could be heard was the aching and echoing sound of my head down the toilet calling very loudly for... Huey and Duey...

Inway to the rescue.

My great friend and colleague in China is Inway Ni, a very admirable guy who I love very much. He heads up one of the fastest growing internet marketing companies in China and is also JV partner for SES China.

Not only is he a very smart businessman, he's also been schooled in the ancient art of Chinese herbal medicine. So just when the last of the Immodium Plus I always carry with me ran out, he arrived with something so magical, if I hadn't tried it I wouldn't have believed it.

After a night of sheer hell, he came to my room (after discovering how ill I actually was) and dispensed five small round balls of what looked like rabbit droppings. I washed them down with a cup of hot water (which he insisted on) and 30 minutes later... BINGO, sorted!

I've always been a little sceptical of this whole herbal/alternative thing. But this was really something else. And I have never heard of anything like it in the west. Needless to say, from now on, these foul tasting, but magic pills will replace Immodium forever. And not only that, Inway is very big on Feng Shui, so he can certainly design my new office :-)

Due to my being ill, I missed a lot of conversation for one whole day. That being the case, Inway decided to come join us in Hong Kong and spend a little time hanging out there.

He and I and Gerry had a wonderful lunch at the Peak. This is a great touristy place in Hong Kong which provides the most breathtaking views over the city. We took some pics just before lunch. Here's myself with Inway to the left and Gerry to the right.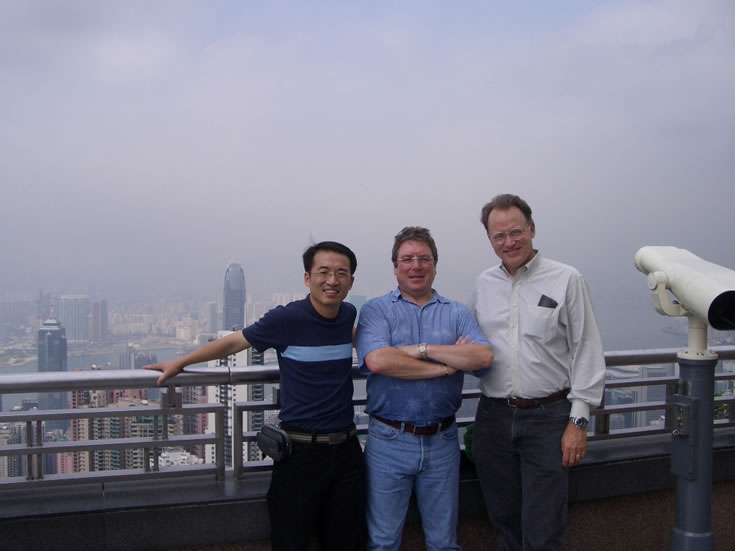 And later that night, we headed downtown for a wonderful dinner at Ruth Chris restaurant with my other big pal from Hong Kong, Eddie Choi (leading Expo and event management specialist). It became a bit of a long night, with us all ending up in a late, late bar in the ex-pat party area of Hong Kong, Lan Kwai Fong.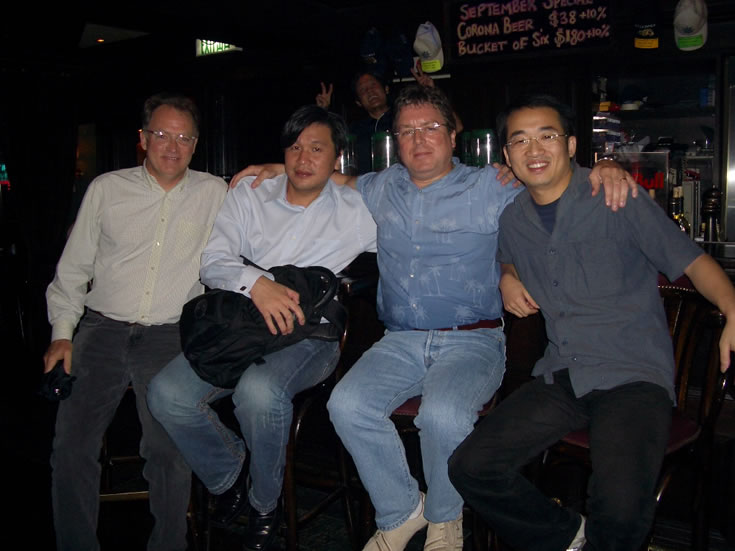 Saturday was a good day to do some touristy things. Neither Gerry, nor Inway, had been out into the country to see what's known simply as the "Big Buddah." This statue is the world's largest Buddha statue, made from bronze, it's 34 metres tall and weighs 250 tonnes.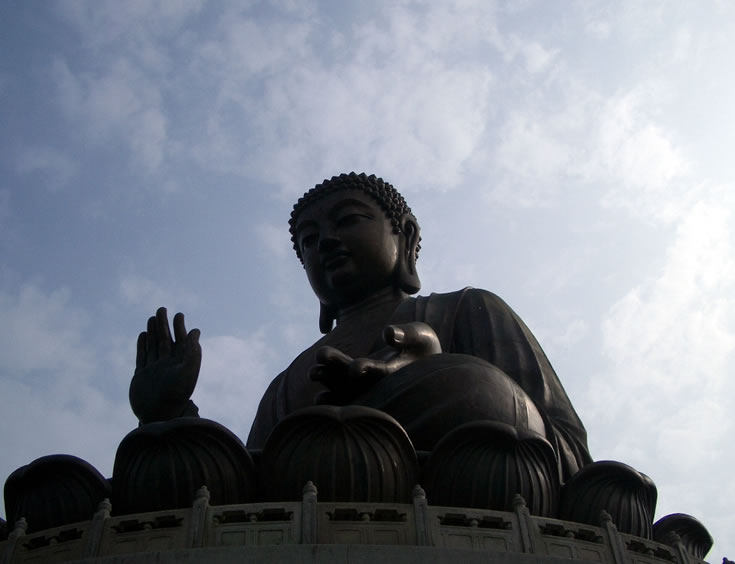 It's set in the most wonderful countryside and is breathtaking. It looks over the most peaceful and serene Buddhist Monastery. Po Lin Monastery was initially a small temple constructed by three Buddhists in 1924. Over the years, more structures have been added, such as the big temple and the world's largest Buddha statue. It's situated in the mountainous area of Lantau Island.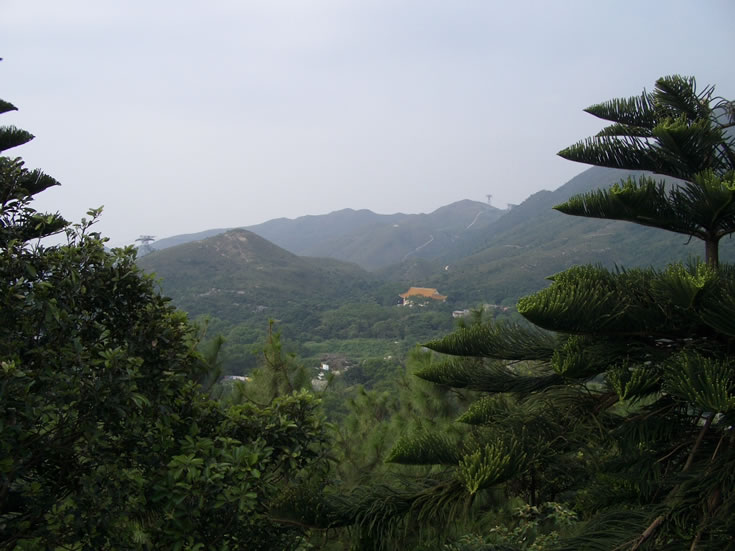 The whole feeling of the place is like sweeping back in time. Or into the intro of a Kung Fu movie...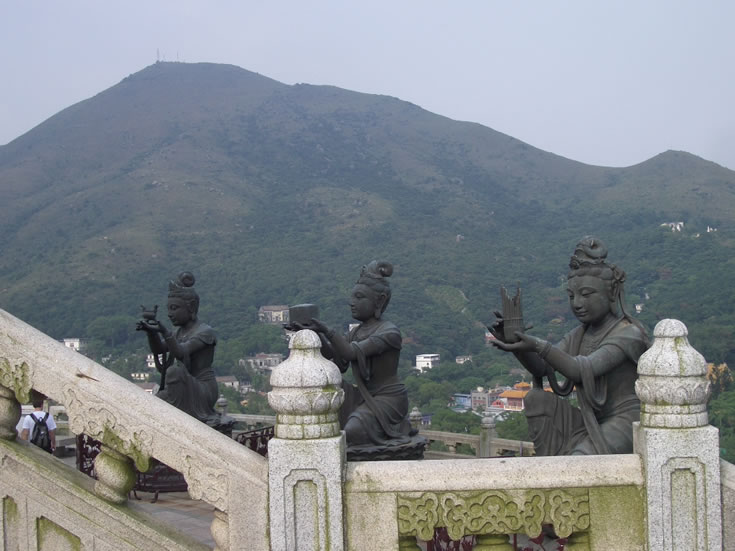 The temple is open to tourists. Your ticket for the Buddah visit also includes a Buddhist monk vegetarian lunch inside the temple.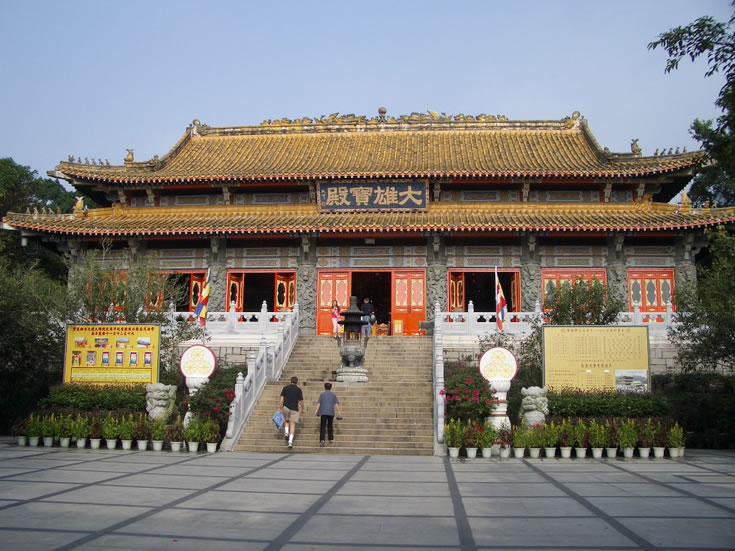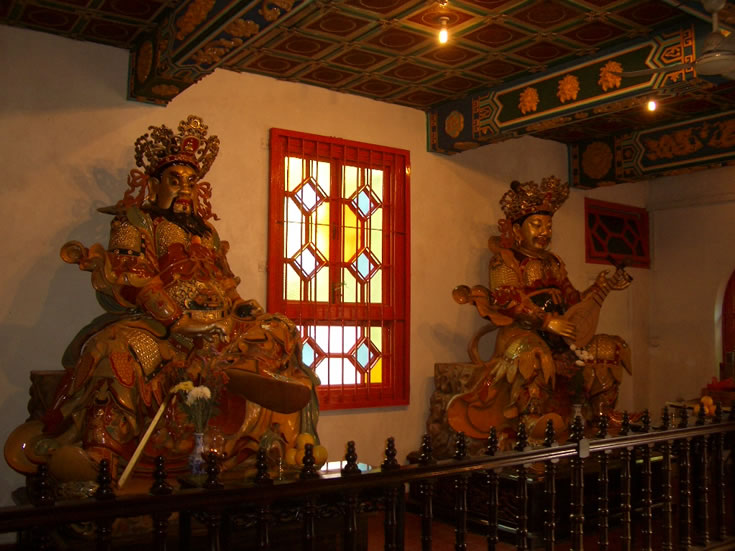 The Buddha statue itself is so big it can take parties on a three level tour inside.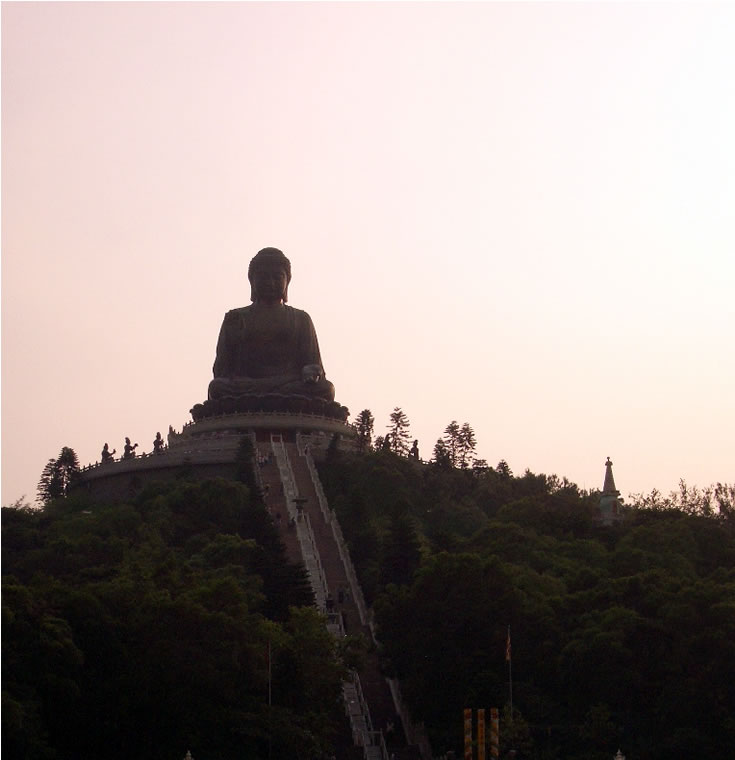 And so, we headed back to the city. Gerry, feeling a little tired decided on an early night. But by this time we had been joined by Yehoo (that's right, Yehoo), Inway's sworn brother who lives in Hong Kong. And so the three of us headed downtown again. And once again, many Mojitos were downed by the three of us. And because Yehoo hadn't had a night out with Inway for a while, I thought we should continue after dinner in Lan Kwai Fong and head off to a few more bars.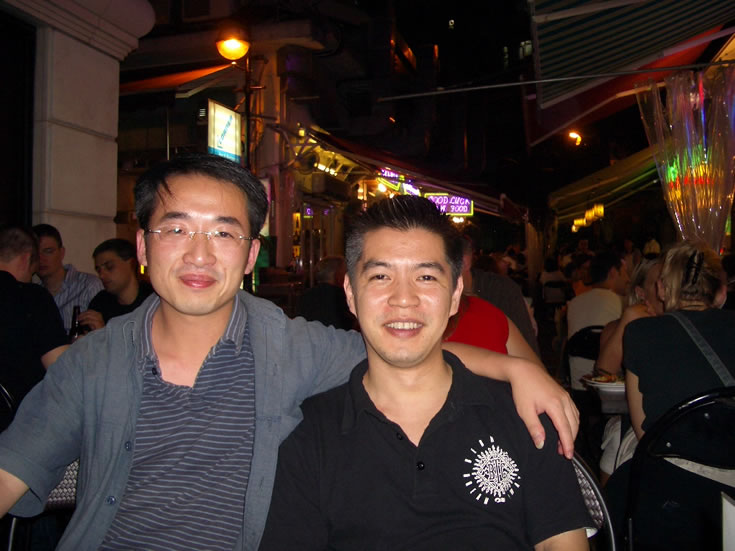 At one bar, we bumped into a crowd of ladies who told me they were sisters from the Philippines. I have to say, they didn't look much like nuns at all. I mentioned this and they told me that they were on leave for the weekend and so didn't need to wear their nuns outfits. It seemed fairly plausible to me!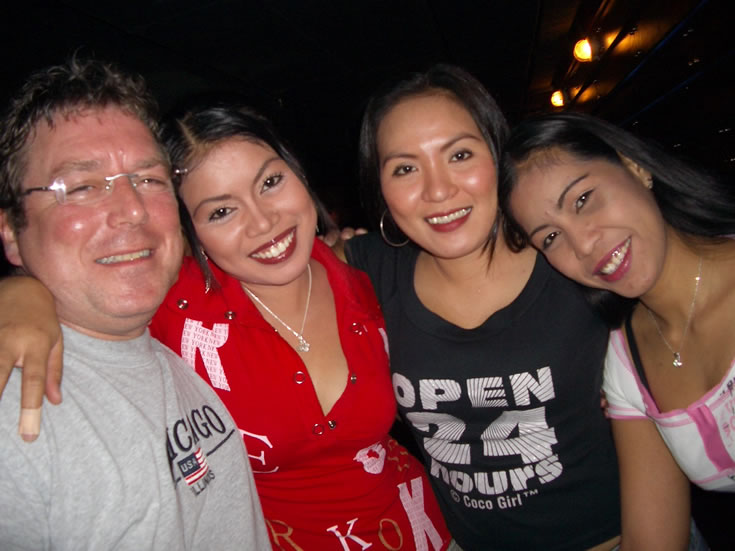 I asked one of the nuns if it was a religious icon on the chain around her neck. She was extremely kind and offered me a closer look.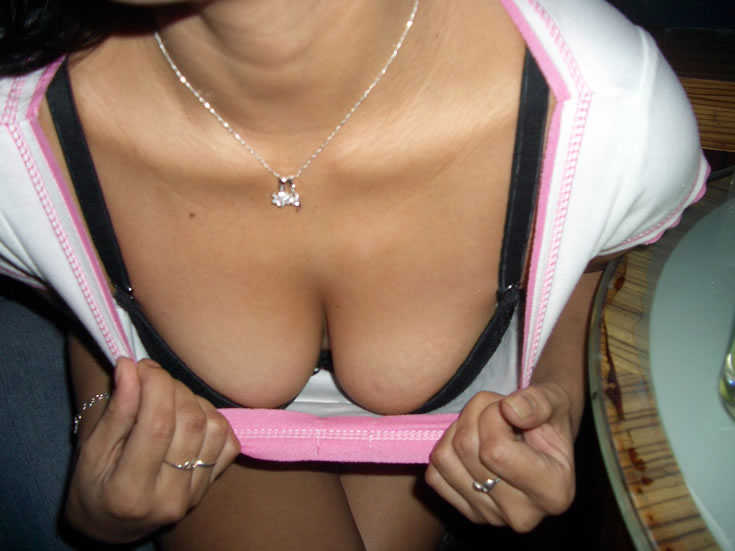 I'll be very honest here... I'm sure I can't think why... but I still have no idea what was on the chain.

That's it. As you read this, I'm on 747 heading back to the UK for ad:tech, London. And then it's back to the US to really get some wheels in motion.