And finally, from SES New York.

I'm home in the UK for the weekend before I head back to the States again, next week. The next few weeks include a lot of travelling from one side of the planet to the other. So I really needed to recharge my batteries to get ready for it.

I've written in my ClickZ column for Monday that, it was probably the biggest SES ever in New York last week. I wrote somewhere recently that, I'm a little unfair on New York and London, neither one of them being a favourite place of mine. Both do have saving grace at times though.

However, the major upside for me is that, in both places I have so many great friends.

The legendary internet marketer Larry Chase, is one of my closest buddies in New York. He used to have a great condo down South Street Seaport area, which is one of my favourite places to hang when in New York. Midtown is cool for tourists who want to do Broadway, Times Square and stuff, but it really can get a bit overbearing.

Larry moved out to his old stamping ground in Connecticut last year, where he's just in the process of buying a fabulous new house. But he still comes down to town to meet me when I get in. And then we go back down to the Seaport area to what used to be his local watering hole, a bar called The Paris.

There's also a great little restaurant which sits right under the approach to the Brooklyn Bridge called The Bridge Cafe. It's one of those classic places you only know about if you're a native. So I took my old colleague and great friend Andy Beal, along with Jim Banks and Larry himself, for a little nostalgic dinner on Wednesday night.

If I had a Martini, for every Martini I've had with Larry... Hehe :-)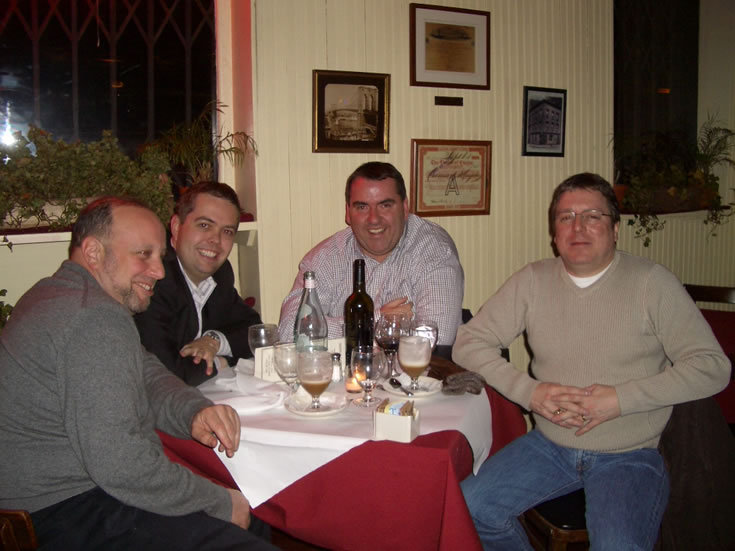 Later, we headed back Midtown to the conference hotel, The Hilton on Sixth Ave. Naturally, the bar was packed with conference speakers and delegates mixing together and discussing search. There's a lot of camaraderie between SES speakers. And a lot of competition. Not about search - about drinking! I doubt if there's a member of the hardcore group that hangs VERY late at the bar that I haven't seen slip under the table at one time or another.

And funnily enough, with the industry being as it is, full of itinerants, it's most often in American cities that I get have a beer with the UK search contingent. Here's Graham Hansell whom I've had the pleasure of working with at a number of London conferences, catching up with my friend and former colleague, Heather Lloyd Martin (I know, I still forgot to put the red eye filter on!).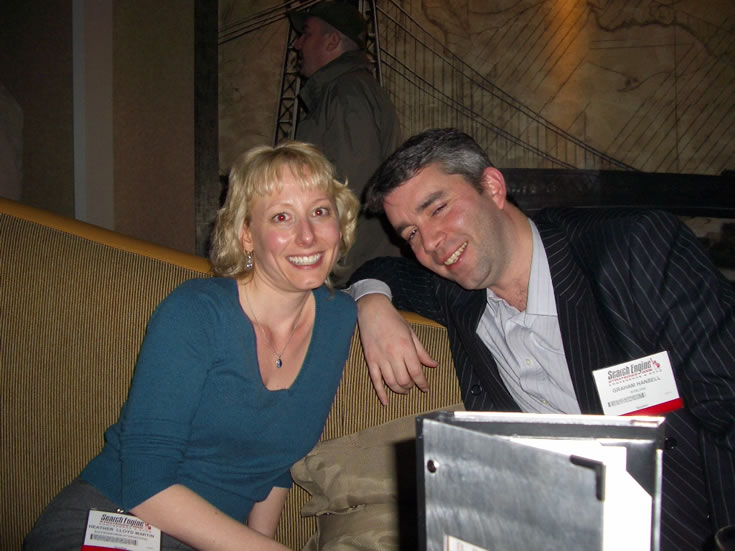 One of my favourite sessions at SES is the organic session. However, and I'm sure he does this intentionally, Danny ALWAYS puts us together for it at 9.00 in the morning. I've been on this panel since it first started in London, years ago. The regular team was me, Todd and Bruce for a while. And then we got fourth member of the team, Dave Naylor. Last week's session was great fun with a lot of cross fire between the panellists, and the surprise arrival of a Banana during one of Dave's responses to a question from the audience. No, please don't ask!

It gets a bit heated between Dave and I when it comes to the San... Sand... Sandb... nah, still can't get it out, issue. But we really are good pals. I have a lot of time for him. He's very clever and always VERY funny. In fact, Dave is my closest SES neighbour living only about 60 miles away from me. He lives in a much posher area than I do in a very, very expensive house. I wouldn't be at all surprised if Jeeves has taken up a position there now that he's been let go at Ask.

Here's a blurry eyed Detlev Johnson (the usual session moderator), bright eyed, bushy tailed (and secreting a Banana about his person) Dave Naylor next to him followed by Todd Friesen and Bruce Clay.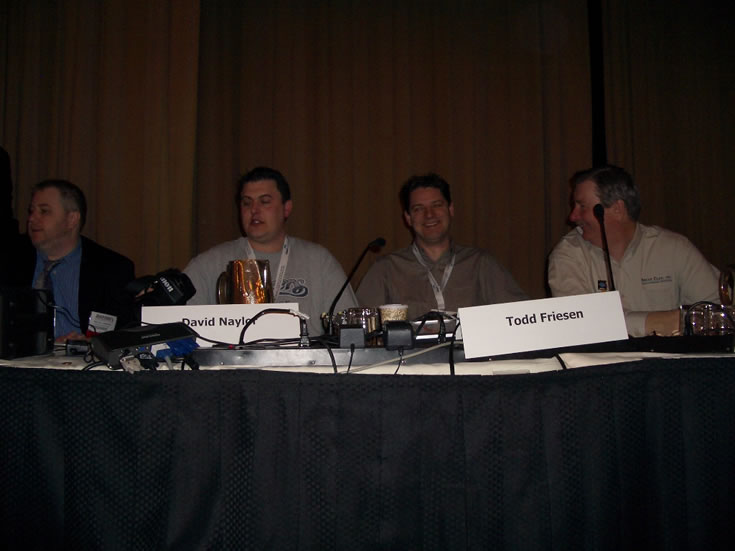 And finally, another quick snap of the audience to give them something to link to!