Another day... and... another day.

Three conferences back-to-back and a proper job in between. No wonder I'm feeling knackered right now (knackered is an English word for... knackered).

I'm having a late lunch break on a train from Newcastle to London. Whenever it's possible, I prefer the train into town as opposed to flying. It's nice to watch the world go by out of the window and catch-up with the tons of email I haven't had time to attend to. It's so convenient being able to get an internet connection on the train. But can anyone tell me why (on the east coast line) I get redirected to Google, Sweden?

Last week I flipped from Czech Republic to Irish Republic. I was invited to speak at SearchMarketingWorld2007 where I was able to catch up with Danny Sullivan and Chris Sherman. I swear, that's the first time the three of us have had a chance to have a drink together in two years. I mean, we do see each other frequently, but rarely is there a time when the three of us are not a little swamped at conferences.

It was also really good to catch up with my pal Jon Myers, from Latitude. He's the only other Geordie I know in the industry. Although he's based in Manchester. Maybe it's about time we started a Geordie SEM club. It may turn out to be just Jon and me in a bar having a beer together though... which is pretty much what happens when we bump into each other at conferences!

Anyway, I woke up in the morning with my usual sense of "where am I." It became quite clear when I drew the curtains and discovered a giant Leprechaun (I know, there's no such thing as a giant Leprechaun!).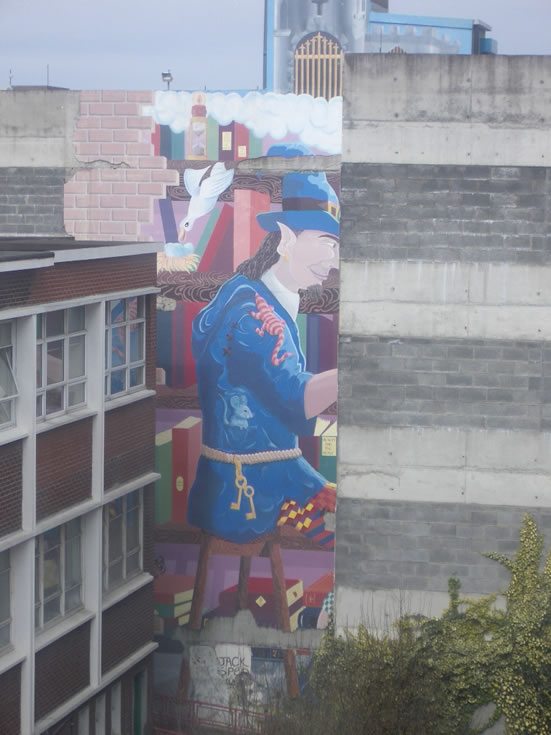 And then there was no doubt at all when I stepped out of the hotel where I was. There's the Liffey, so it must be Dublin!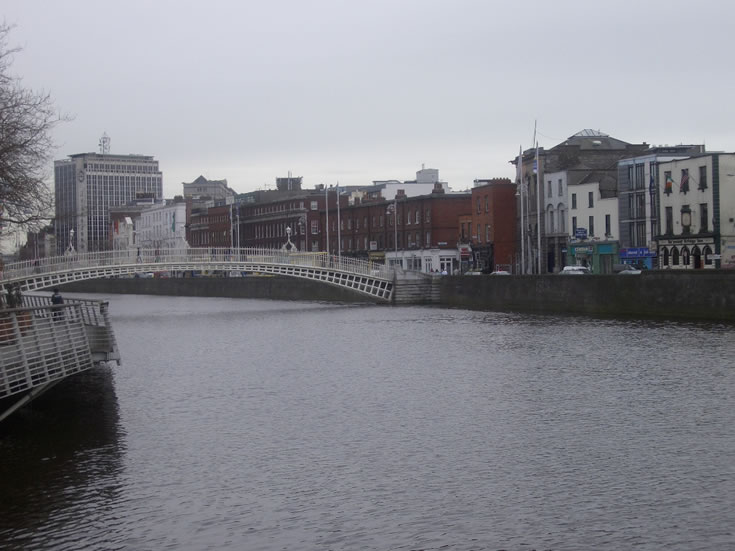 The conference venue was really unique. Actually, Jon Myers has a good post on his blog with a great picture with the caption "The Church of Search."

Here's Jon with Shuman Ghosemajumder from Google. Shuman (AKA ClickFraudMan!) flew in for the event. We had a pretty interesting conversation about people claiming to be making huge amounts of money out of click fraud/arbitrage/affiliate type activities. He was pretty philosophical saying that, people who try to figure out all of these odd ways to game the system could probably earn more if they turned their efforts to strictly legitimate biz. Good point.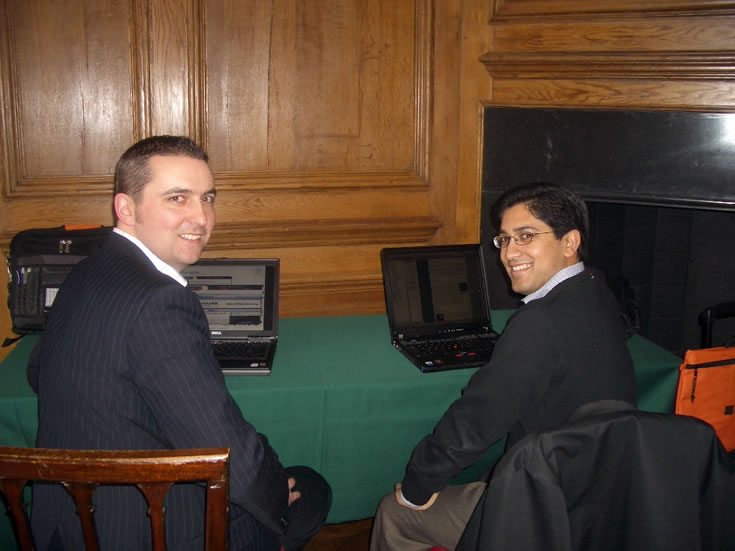 It was good to catch up with Jeffrey Rohrs (he of the sausage manifesto fame, amongst everything else). And yeah, what a great little conference and excellent venue. I think I'll write in to my speaking contracts that I need oil paintings and chandeliers for every gig now :-) And here's token audience pic.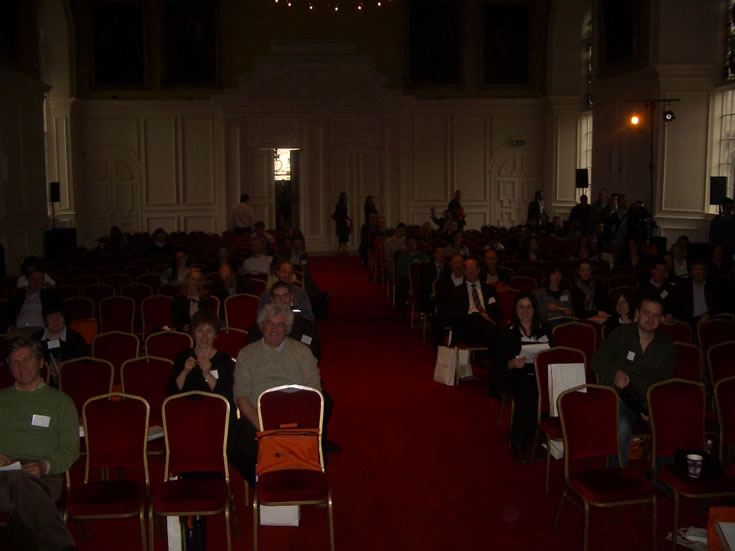 It wasn't long before I was waking up in another country, another day. Munich!

I flew in on Sunday and was taken out to dinner by my friend and colleague, Thomas Bindl. Munich is Thomas' town and he's a very useful guy to know if you're visiting Munich for the first time. He knows the place inside out; restaurants, clubs, bars, the lot. On Sunday night I was treated to the most wonderful dinner atop Munich's Olympic Tower.

I like SES, Munich. It's one of the smaller, intimate conferences with a really nice atmosphere.

Funny, I usually get to meet Danny here, as he has family in Munich. But since his departure from Incisive (except for the final American shows) no sign of him this year.

Thomas (Bindl) had arranged for a special party to launch his new company. Yeah, I know, with him and I working so closely together, I'll have to have a party to launch my brand. Except there are no search marketing conferences in Newcastle... but wait a minute: There should be!

Thomas go the party off to a flying start in his new office premises. Not only did he have gallons of Clicquot shampoo for us all to drown ourselves in (me mainly, as usual ;-) He also had gallons of Merlot! The food was perfect. All traditional and Thomas and his guys did traditional Bavarian dress too.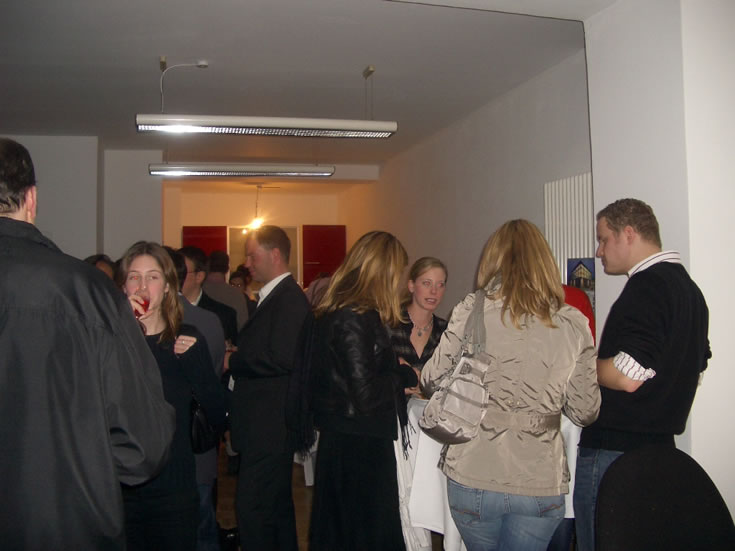 Here I got to spend a little quality time with my pal Adam Lasnik from Google. Adam used to rank in the top ten at Google for the name Adam. So he couldn't resist asking if I ranked anywhere for Mike. Actually, at home I rank at number one for that name ;-) C'mon guys, gimme some more anchor text ;-)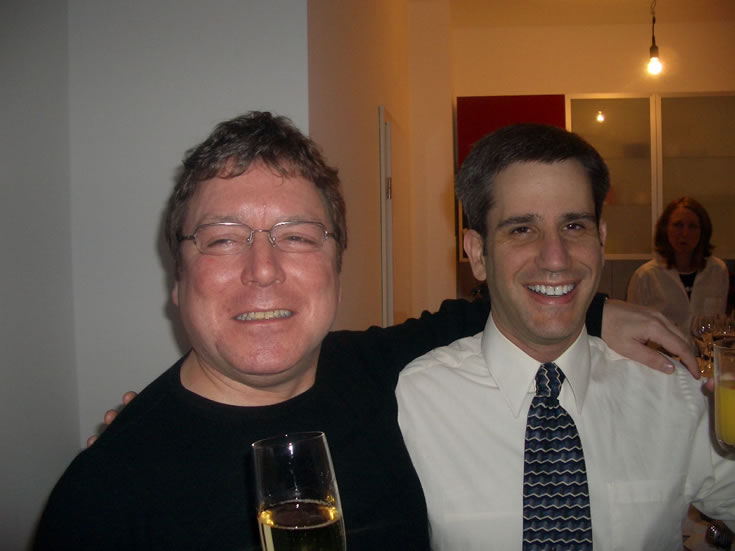 We all ceremoniously inscribed our names and good luck messages on the wall in Thomas' new office. And here's my pal Sara from Global Strategies leaving a message in Swedish. I like Sara a lot, she's very, very smart... and she has a very cute ass too.

What?

What??

I'm an old guy... I noticed... sorry. Have me arrested!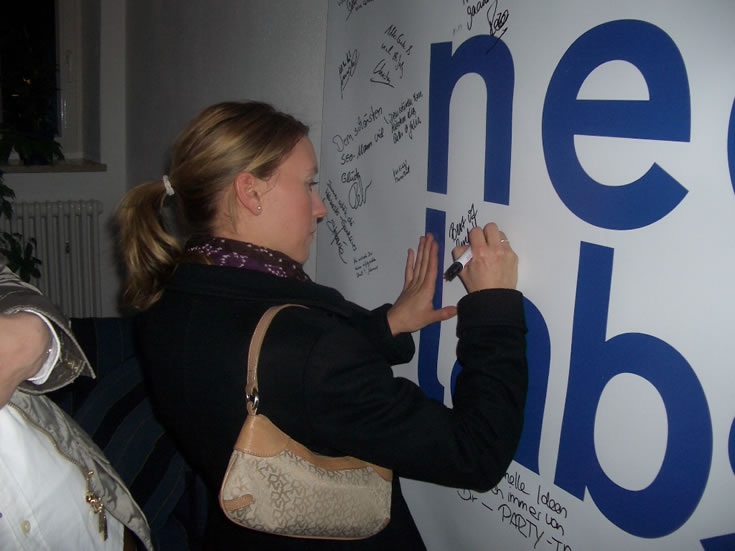 I also got to spend some quality time with the inimitable Jimmy Furland. It's not possible to go for a drink with Jimmy if you intend getting back to your room before 6.00 am And so it was that he and I were left on our own, in a downtown bar in Munich, the night before, to invent some of the most amazing SEO tools you could ever imagine. Tools which would put SEO into the hands of children as they'd be so cool and easy to use. If 'only' either one of us could remember what they were later that day :-)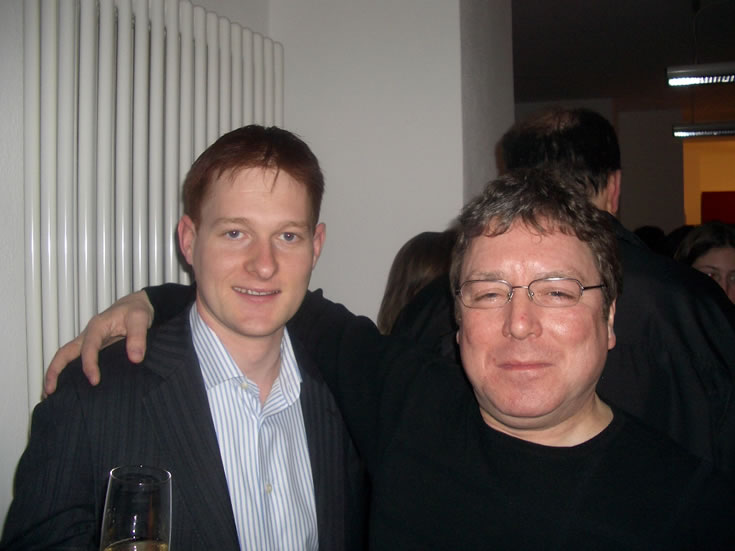 And then, the piece de resistance... Thomas announced part two. He'd only hired a street tram and had it loaded up with booze, bar and barman for a two hour spin around downtown Munich. So we packed on board and really had a party on the move!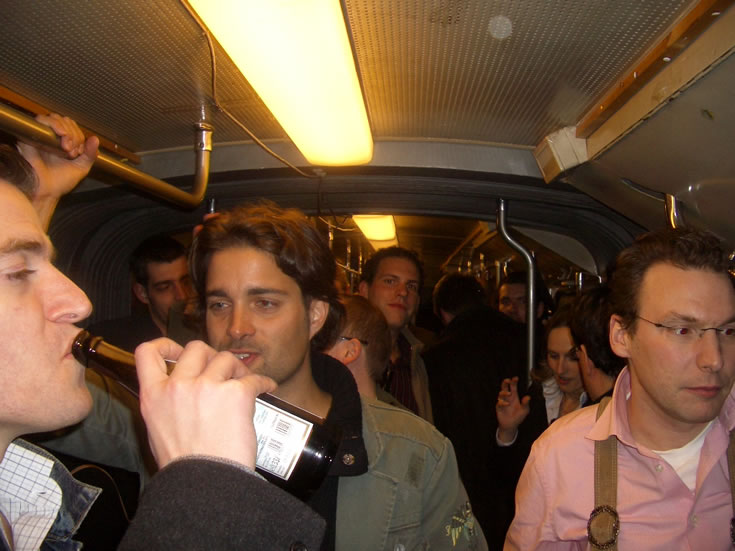 Rand brought his own special brand of yee-hah! To the party, as we stopped at the public restrooms for a party pee! Note men racing to urinals in the background!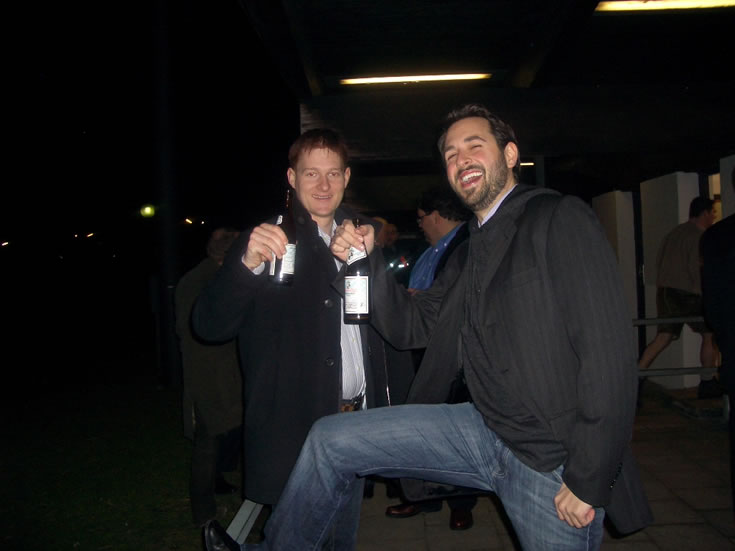 So it was that we continued our journey and drinking, and drinking and... And later, back on the tram, Rand looked deeply and romantically into Geraldine's eyes... and said: "I think I'm gonna be sick."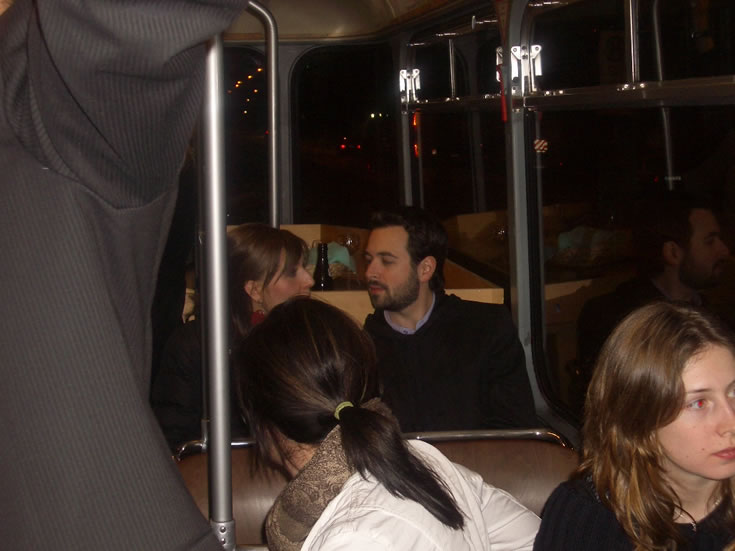 Not tue at all. I just made that up. Because we rounded off a fantastic night with my own little ceremony with Bill Hunt: the emptying the hotel bar of Jameson, Irish whisky. And, of course, my famous "odd people in SEO" impersonations. Always goes down a storm ;-)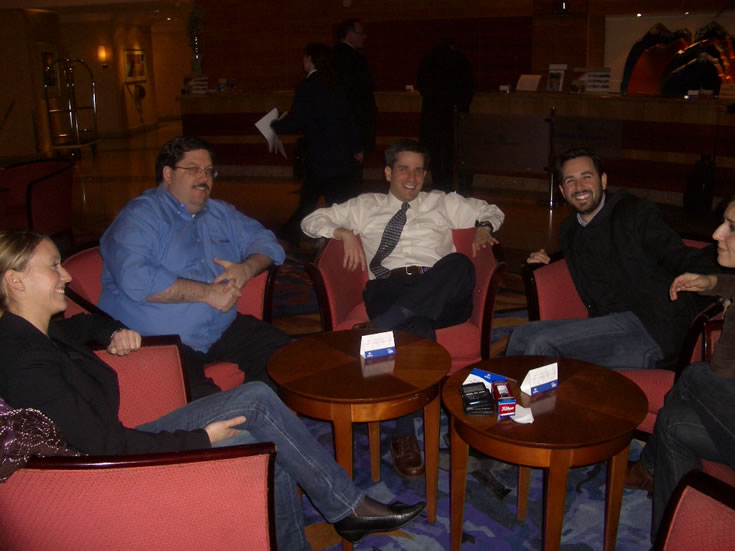 Okay. London next for eMetrics summit and then... Another day, another city!